THE KILLER BEES TEAM BIO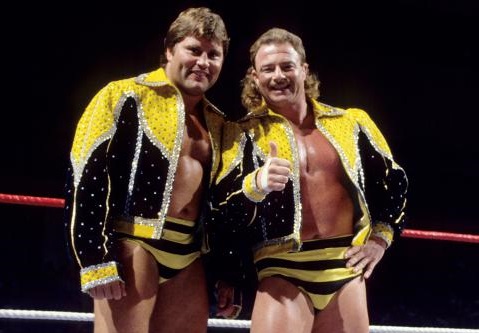 Combined weight: 465 lb (211 kg)
Debut: 1985
WORLD WRESTLING FEDERATION
The two men were signed by the WWF as it continued its national expansion through 1985, debuting under the "Killer Bees" name. Blair was already a part of the company wrestling as a singles competitor in 1984. The teaming of Blair and Brunzell was suggested by Hulk Hogan. Because Blair and Brunzell were similar in build, the team had a special gimmick referred to as Masked Confusion where both wrestlers would put on identical masks during the match to confuse the opponents and referee and usually win that way—despite this normally being a tactic used by the heels. The "Masked Confusion" idea was given to Blair by Billy Red Lyons, who had used it in Maple Leaf Wrestling (albeit as a singles wrestler). The team debuted on June 17, 1985, defeating the team of Steve Lombardi and Dave Barbie. Coincidentally, this was also Brunzell's first match in the WWF. After facing several makeshift teams, the Killer Bees started a long-running feud with The Hart Foundation (Bret Hart and Jim Neidhart). The Bees also had a running feud with the Funks (Hoss, Terry and Jimmy Jack). In August 1986, they faced Hoss and Jimmy Jack Funk in front of 70,000 people at The Big Event in Toronto, a card headlined by Hulk Hogan vs. Paul Orndorff. The team also received a couple of shots at then-WWF tag team champions The Dream Team. The Killer Bees were a part of a battle royal involving wrestlers and NFL players at WrestleMania 2 and next got the spotlight at WrestleMania III, where they faced Nikolai Volkoff and The Iron Sheik, losing by disqualification because of the interference of Jim Duggan. After WrestleMania III, the Killer Bees moved on to a feud with WWF newcomers Demolition. They were one of two teams (with The Young Stallions) to "survive" the 10-team elimination match at the inaugural Survivor Series on Thanksgiving Day 1987. The Bees' last Wrestlemania appearance would be at Wrestlemania IV, where they once again competed in a battle royal. The Killer Bees' last prominent appearance was at "WrestleFest" in summer 1988, where they lost to The Fabulous Rougeaus. The duo's last WWF match as a team came on August 24, 1988, against The Young Stallions.
AFTER THE WWF
In the early 1990s, the Bees reformed in Herb Abrams' Universal Wrestling Federation, winning that promotion's tag team titles before the federation folded. While there, they were unable to use the WWF-trademarked name "Killer Bees" and were instead known as Masked Confusion. Though, Blair was introduced as "Killer Bee" B. Brian Blair when he wrestled singles matches. The Bees also re-appeared in an American Wrestling Association event, episode of All-Star Wrestling in 1994.
The "Killer Bee's" were featured on many of "Saturday Night's Main Event's" where Bret Hart states in his Book "My Real Life in the Cartoon World of Wrestling", that the best Tag-Team match of his career was against Blair and Brunzell at the LA Coliseum during the "Saturday Night Main Event" run starting in 1985, that filled the "Saturday Night Live" time slot produced by NBC executive Dick Ebersol. The Killer Bees also won the "Jake Tunney" Tournament in Toronto Canada where Mr. "T" was their manager for a few months. Blair/Brunzell were also winners of the first "Survivor Series", participated in "The Big Event" Canada, The 1st "Royal Rumble" First tour of Australia, Blair went to Europe as a singles along with friends Tito Santana and Andre the Giant. Blair and Brunzell are still in high Demand now working many Comic-Cons and Independent Autograph Sessions. Both Blair and Brunzell have a new Comic Book Series called the "Killer Bee's" a true life story (animated) about Blair and Brunzell's journey to become Pro-wrestlers available right here in the Killer Bee store. Blair had his last match at the "Tragos-Thesz "Pro-Wrestling Hall of Fame" on July 22nd, 2017, where he successfully tagged with Wes Brisco. Both Blair (2015 - Thesz) and Brunzell (2014 - "Mazurki") are Iowa HOF inductees.
B.BRIAN BLAIR BIO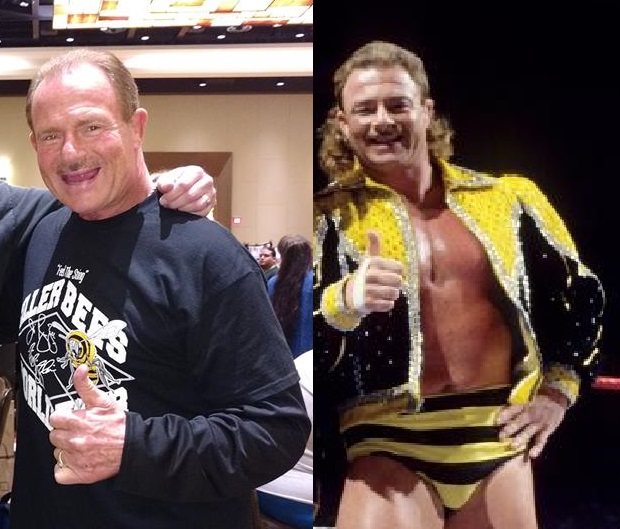 Birth name: Brian Blair
Born: January 12, 1959 Gary, Indiana
Residence: Tampa, Florida
Billed height: 6 ft 1 in
Billed weight: 235 lb
Trained by: Buddy Colt, Eddie Graham, Hiro Matsuda, Jack Brisco & Bob Backlund
Debut: 1977
Retired: 2019
As a child, Brian wanted to be Superman and even prayed that he might somehow become a superhero. By the time he was in high school, he also worked out to help out his parents. Blair moved out of his house at age 16 and held several jobs to pay his share of the rent. Brian started competing in sports in junior high school and won city championships well as a Regional junior high school heavy weight against Reddick, Ronald. In high school, he lettered 9 times in various sports such as football, baseball, track and field. Brian won many accolades in high school other than sports; Blair was named Mr. Titan and was voted "Best all Around" his Sr.year.To this day he holds the record for most letters in Hillsborough County High School in Tampa Bay, Florida. Brian loved professional wrestling and wrestled and played football in high school so he could be tough enough to do it when he graduated. After graduating at the age of 17, Blair started training in the summer for CWF located at 106 N. Albany st.where the CWF tapings were held every Wednesday. Brian had his heart set on playing football for the then NCAA division 2 Power-house, The University of Tampa, where he sold sodas to the fans and watched his favorite players, Freddie Solomon and Paul Orndorff. The University of Tampa folded their Football program, largely due to the new Arrival of the Tampa Bay Buccaneers. Deeply saddened, Brian attended Saint Leo College near Dade City under coach Tillrow Morrison, then transferred to the University of Louisville on a football scholarship, although he never earned a varsity letter; he majored in both business and political science.
EARLY CAREER (1977–1985)
In the summers of 1975 - 1977 prior to Saint Leo, College then to the University of Louisville , Brian started training to be a wrestler with the legendary Hiro Matsuda in Florida. Brian debuted in mid-1977 with Eddie Graham's Championship Wrestling from Florida (CWF) where he usually worked as a "face" (good guy). Brian's debut was a tag-team match facing Pat Patterson and Ivan Koloff in a losing effort. One of Brian's early opponents was another Matsuda student who had just begun working as "The Super Destroyer" (Hulk Hogan). After Florida, Brian's moved on to Bob Geigel's NWA Central States promotion out of Kansas City around 1978 where he finally started to make a name for himself as he feuded with Jesse Ventura in 1979. Brian's also teamed up with "Bulldog" Bob Brown and won the Central States Tag Team Belts. He also appeared regularly for Leroy McGuirk's Tri-State promotion, While in the Tri-State promotion Brian won the Junior Heavyweight Title from Ron Starr but only held it for about a week before losing it back to Starr. The one-week reign was Brian's first professional wrestling title reign. After leaving the Tri-State promotion he joined up with Fritz Von Erich's World Class Championship Wrestling promotion in Texas, where he lived with David Von Eric for well over a year. In WCCW he quickly gained victories over Killer Tim Brooks and former WWWF World Champion Stan Stasiak. During his time in Texas he was asked by Al Madril to be his partner in a tournament to crown new American tag-team Champions. Al and Brian were successful kicking off a three-month run with the title. Their run with the gold was cut short by Killer Tim Brooks and Armand Hussein in September, 1981 At this point in time Brian was given a golden opportunity as he was booked by Vince McMahon, Sr. to wrestle for the World Wrestling Federation (WWF) most notably on their tours of Japan through New Japan Pro Wrestling (NJPW) where he faced Japanese icons Antonio Inoki and Tatsumi Fujinami. After gaining experience all over the world Brian returned to his roots, Championship Wrestling from Florida. On July 11, 1982, Brian beat Jimmy Garvin for the NWA Florida Championship and defended it successfully against such legends such as Stan Hansen and Bruiser Brody. After a wild match against Brody in August the title was held up and Brian soon left the promotion. He returned to CWF in 84/85 defeating Jesse Bar on January 6th, 1985 for his second run as Florida Heavyweight Champion. In 1983 he joined the WWF once again as they began to expand to a national promotion. During his first stint with the WWF was a highlight match with Paul Orndorff in St. Louis. After the short run with the WWF, he moved on to Georgia Championship Wrestling as well as a return to Florida Championship Wrestling. In Florida, he picked up another Florida title run as well as unseating "Ravishing" Rick Rude as the Florida Southern Champion. During his run with the WWF in 1984, He often teamed with fellow wrestler Tony Garea.
WORLD WRESTLING FEDERATION (1985–1988)
When Brian signed with the WWF for a third time he was teamed up with Jim Brunzell to form The Killer Bees. The teaming of Blair and Brunzell was suggested by Hulk Hogan. The team had a special gimmick referred to as "Masked Confusion" where both wrestlers pulled out identical masks during the match to confuse their opponents and usually win their matches that way. The "Masked Confusion" idea was given to Brian by Billy Red Lyons who had used it in Maple Leaf Wrestling. They constantly challenged for the WWF World Tag Team Title but never won it, although the fans were thoroughly behind them. Their biggest feud in the WWF was against The Hart Foundation, Bret Hart and Jim Neidhart who they wrestled somewhere between "300 and 600" times according to Brian himself. The Bees also had a running feud with The Funks (Hoss, Terry and Jimmy Jack). They faced Hoss and Jimmy Jack Funk in front of 70,000 people at The Big Event in Toronto. Later in 1988, The team was split without any reason, and they both ended up competing in the singles division. Jim remained with the WWF into the early 1990s. Brian built a Gold's Gym in 1989, soon growing to four Gyms before consolidating two locations in near proximity. He successfully sold his Gold's Gyms in December of 1999 for 2.1 million dollars. Steve Keirn was his managing partner of the Tampa Palms location where Keirn owned 20% of that location. Brian continued to wrestle during this time making many trips to Japan and worked his last tour of Japan in 2004 with Bob Backlund. He had a very successful time as an Independent wrestler where he traveled the World riding off of the WWF overseas tape-delay which kept him popular with the fans around the World, making tours in Russia 1993 with Afa and Sika "The Wild Samoans", Former WWF Referee Dick Worley promoted Aruba, Bon-Air and Curacao, Hal Jefferies promoted Singapore, India, Guam and Saipan, where Blair became the "Asia Pacific" Heavyweight Champion. Brian traveled to over 20 Countries after his WWF run. In the fall of 1988, Brian left the WWF. Brian And Jim "The Killer Bee's" wrestled in WrestleMania's 2, 3 and 4 before Brian gave his notice in Salisbury, MD right before Wrestle-Mania 5 and although in attendance Brian did not perform in this event.
AMERICAN WRESTLING ASSOCIATION (1990)
After leaving the WWF in 1988, Brian returned to wrestling in 1990 as he signed a short-term contract with Verne Gagne's American Wrestling Association. He challenged Larry Zbyszko for the AWA World Heavyweight Championship. Brian defeated Zbyszko by disqualification meaning the title couldn't change hands that way with Zbyszko retaining the title.
UNIVERSAL WRESTLING FEDERATION (1990–1994)
Brian was one of the first "names" to work regularly for Herb Abrams Universal Wrestling Federation (UWF) when it opened its doors in late 1990 quickly becoming a regular on the federations Fury Hour shows. In the UWF, Brian reunited with Jim Brunzell but due to the WWF holding the trademark to the name "The Killer Bees" they were billed as "Masked Confusion". They competed on the UWF's first (and only) PPV, Beach Brawl, where they beat the Power Twins. The team was also the only UWF Tag Team champions. They won the title at UWF's last big show known as Blackjack Brawl where they beat the "New Powers of Pain" (The Warlord and Power Warrior) The Bees would also regularly wrestle as one of the top tag teams in the UWF's Fury Hour. Brian was given was a big push in the UWF, usually defeating the UWF's preliminary talent, and even one of the top heels of the company who he also feuded with, Bob Orton, Jr..
INDEPENDENT CIRCUIT (1994–2019)
After the UWF folded, Brian continued to compete on the independent circuit, especially around his home state of Florida. Through the mid-1990s, He also travelled to Japan regularly and wrestled for New Japan Pro Wrestling usually as "Brian Blair" or "The Killer Bee". In 1998, Brian won the NWA Florida Tag Team Championship with Steve Keirn holding the title from November 13, 1998 to August 15, 2000 when the title was vacated following a match with the Bushwhackers. Blair and Keirn faced off in a singles match to determine who got to pick a new partner; Brian won and picked local star Cyborg The Wrestler (Kevin Donofrio) as his partner. The two held the tag team titles until July 10, 2001 where they were forced to forfeit the title due to injuries. On March 31, 2012, Brian returned to the ring as he teamed up with Carlos Colon, Lanny Poffo, and Mike Graham as "Florida Team" to defeat the team of Gary Royal, Larry Zbyszko, Ron Bass, and The Masked Superstar (as "Georgia Team") in an eight-man tag team elimination match on an event held on his home-state of Florida. Blair and Graham were the sole survivors. On April 14, 2013, Brian faced Matt Riviera for the Vendetta Pro Wrestling annual event "Pro Casino Royale" edition of 2013. On August 5, 2014, Brian faced wrestler "The Tokyo Monster" Kahagas for American Pro Made Wrestling promotion in a winning effort. On September 3, 2014, Brian faced former rival Matt Riviera for the annual National Wrestling Alliance event "Mid-Atlantic Legends Fanfest" edition of 2014. Riviera said some days before the match he would "humble" Blair. This was a reference to many of The Iron Sheik's remarks towards Brian,Brian was defeated. On October 26, 2014, Brian faced The Cuban Assassin for the annual NWA "WrestleFest" in a winning effort. On July 21st, 2016, Brian competed on the Impact Pro Wrestling George Tragos/Lou Thesz Hall of Fame show teaming with Wes Brisco & "Hot Fire" Myron Reid taking on AJ Smooth, Justin Decent, and Aaron Von Barron. Blair had what was to be his last match at the "Tragos-Thesz "Pro-Wrestling Hall of Fame" on July 22nd, 2017, where he successfully tagged with Wes Brisco. Blair will have his retirement match on July 26th, 2019 at an event in Iowa.
PERSONAL LIFE
Brian is married to Toni Sabella and they have two sons, Brett (named after professional wrestler Bret Hart) and Bradley. He is also a Christian and is active in his church, Idlewild Baptist.
Brian Blair owned and managed four Gold's Gym fitness centers in the Tampa Bay area with fellow wrestler, Steve Keirn,which he sold in 1999 for 2.1 million.
Brian Blair's first attempt for a seat on the county commission was against Pat Frank but he lost in the 2002 race by a narrow margin. In 2004, Brian ran again and was elected County Commissioner, District 6 (countywide) for Hillsborough County defeating former city councilman Bob Buckhorn. The race was one the closest county commission races in the history of Hillsborough County with Brian winning with 216,430 votes to Buckhorn's 214,062. Brian was elected county-wide in Hillsborough County FL, population over 1.3 million in 2004-2008. In 2008 Brian ran for re-election winning the Republican primary against Don Kruse on August 26, 2008. One great concept that Brian had was of the senior zone. It was designed to warn other drivers and to be cautious of senior citizens exiting or entering their parking lots. "A senior zone slows down traffic without the need for a traffic light. We found that here in Florida, senior citizens prefer having traffic lights near certain entrances or exits of lots. The traffic lights we originally were looking at were too expensive. I worked with a traffic engineer and we came up with senior signs that are posted with flashing caution lights and 'reduce speed limit' written on the pavement. The cost of this whole project would have been the same cost of a traffic light. It reduced accidents a great deal and just like all citizens, the senior citizens safety is a high priority in our community" said Brian. The senior zone was voted number one and got picked for the most innovated project of the year in 2008.
In the summer of 1990, Brian was present when Brutus Beefcake had a near fatal para-sailing accident. In fact, Brian was the person to pull Brutus out of the water after being struck in the face by the knees of a novice parasailer.
On July 12, 2015 Brian received two major honors when the Thesz/Tragos arm of the Dan Gable Museum and Hall of Fame inducted Brian into their Hall of Fame while also awarding him with the highly coveted "Lou Thesz" Award. Brian is now the President and CEO of the 501c3 Cauliflower alley Club. The Cauliflower Alley Club (CAC) gives financial assistance to people from the wrestling Industry who have fallen on difficult times.
In 2017 Brian Blair starred with fellow wrestler Ron Bass in the feature film Silent Times Directed by Christopher Annino/
On July 26th 2019 Blair's retirement match took place against James Jeffries at the Impact Pro Wrestling show during the George Tragos/Lou Thesz Professional Wrestling Museum Hall Of Fame Induction Weekend in Waterloo,IA. James Beard was announced as the Special Guest Referee for the match. Blair emerged victorious after nailing Jefferies with the NWA Florida Heavyweight Championship,which he brought with him to ringside
.
"JUMPING" JIM BRUNZELL BIO

Birth name: James Brunzell
Born: August 13, 1949
Residence: White Bear Lake, Minnesota
Billed height: 5 ft 10 in
Billed weight: 235 lb
Billed from: White Bear Lake, MN
Trained by: Verne Gagne
Debut: 1972
Retired: 1999
Jim performed for various wrestling promotions during his 21-year career.
EARLY LIFE
The son of a navy pilot, Jim lived in Memphis for a time as a child. Jim attended high school in White Bear Lake, Minnesota, where he participated in multiple sports including American football, scholastic wrestling, and athletics. He was a state champion in the high jump while in high school. He attended the University of Minnesota, where he continued to play football and high jump. During college, he had a tryout with the Washington Redskins as a tight end. He then returned to college to finish his degree.
PROFESSIONAL WRESTLING CAREER
Following his unsuccessful tryout with the Redskins, Jim was approached by former college football teammate Greg Gagne, who convinced him to train as a professional wrestler. He trained with Gagne's father Verne, alongside wrestlers including Ric Flair, Ken Patera, and The Iron Sheik. He began wrestling in various territories in the early 1970s, most notably in the NWA Central States promotion. There, he teamed with Mike George to win the NWA Central States Tag Team Championship on October 25, 1973. Following this, he returned to Minnesota and joined Gagne's promotion, the American Wrestling Association (AWA). He formed a tag team with Greg Gagne known as The High Flyers. The duo won the AWA World Tag Team Championship on July 7, 1977, by defeating Blackjack Lanza and Bobby Duncum. They held the championship for more than a year, until September 23, 1978, when they were stripped of the championship as Brunzell had suffered an injury. In 1979, Jim transferred to the Mid-Atlantic Championship Wrestling (MACW) promotion, where he twice won the NWA Mid-Atlantic Heavyweight Championship. He returned to the AWA in 1981, and on June 14, The High Flyers regained the championship by defeating The East-West Connection (Jesse Ventura and Adrian Adonis).In the mid-1980s, Jim wrestled in Montreal for International Wrestling.
WORLD WRESTLING FEDERATION
Jim signed to wrestle with the World Wrestling Federation (WWF) as they continued their national expansion. He was paired with another WWF newcomer, Brian Blair (though, Blair had already wrestled in the WWF before) as The Killer Bees. The Killer Bees were faces, but were original as the first faces to wear masks and switch places behind the referee's back. Brunzell and Blair had success in the WWF. They feuded with such teams as The Hart Foundation as well as the Funks, Jimmy Jack Funk and Hoss Funk, whom they faced in front of over 74,000 fans at The Big Event. Their stay was also highlighted with a match against Nikolai Volkoff and The Iron Sheik as part of WrestleMania III, and a win at the inaugural Survivor Series on Thanksgiving Day 1987. The Killer Bees teamed together until they were separated off-screen by the management team.
Singles competition (1988–1993)
Following the breakup of Killer Bees, Jim competed in singles competition for a time, and despite hoping to work for the WWF as a producer/booker for the WWF, he wrestled his final WWF match in April 1993, episode of Monday Night Raw where he was defeated by newcomer Damien Demento.
INDEPENDENT CIRCUIT
Jim left WWF in 1993 and competed on the independent circuit, primarily in the Chicago area. He also wrestled for Herb Abrams' Universal Wrestling Federation (UWF) in 1991. While there, he reunited with B. Brian Blair under the name Masked Confusion, winning the tag team title twice. After the UWF closed, he returned to the independent circuit and continued to wrestle until the mid-1990s, but still making sporadic appearances in the late-1990s and early 2000s. On May 23, 1993, Jim wrestled at World Championship Wrestling's inaugural Slamboree pay-per-view in a six-man tag match alongside fellow "legends" Wahoo McDaniel and Blackjack Mulligan against Dick Murdoch, Don Muraco, and "Superfly" Jimmy Snuka. In 1994, he appeared in the American Wrestling Federation as a guest referee in a bout for the AWF Heavyweight Championship, in which Tito Santana beat Bob Orton, Jr. to win the title. Jim wrestled his final professional wrestling match in 1999 on the "Wrestle America 2000" event held on Crystal, Minnesota against The Hater in a winning effort for Brunzell.
PERSONAL LIFE
Jim is married to Mary Iten and has 2 Children. Since retiring from wrestling, Jim works in sales and is involved in his local church and does charity work for children with diabetes.
© COPYRIGHT THE OFFICIAL WEBSITE OF THE KILLER BEES